M4 Khao Yai Cross Curricular Field Trip 2020/21
To supplement and support the M4 students' in-class curriculum studies the students in M4 took part in a cross-curricular educational field trip to Khao Yai National Park, Pak Chong, Nakorn Ratchasima. The trip is organized in conjunction with Big Outdoors Education Centre which is professionally run by outdoor education specialists.
The fieldwork includes geography and science field study, which is a vital part of education, while English and Math are used extensively in the data handling and presentation. 
The field work included studying the ecology and biodiversity of rivers, including;
Measuring and recording river speed of flow and river channel cross sections. Identifying and explaining the formation of river features. Field sketching and annotations.

Pollution assessment and stream invertebrate surveys to determine the impact of human activities on our environment.  Further study of industry and its impact on the environment.

Studying the vegetation variation and biodiversity along an environmental gradient and identify the adaptations of vegetation in a tropical Forest.

Undertaking a tourism impact survey of sites around the area. This specifically includes identifying human impact and surveying a tourist site to obtain primary data.
Day 1
We arrived at the National Park, after lunch and a quick change, we set off for the first river site. The students immediately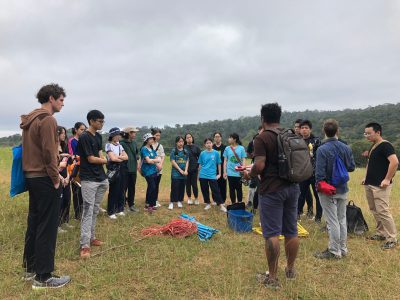 took to the river, and quickly got involved in the studies. Measuring river discharge, studying a meander and catching and studying stream invertebrates to identify the levels of pollution. After playing in the water, we studied the waterfall and headed back for dinner, data entry and star-gazing… 
Day 2
An early start, into Khao Yai National Park. The morning was cloudy and rain threatened, the students set off for the walk through the rainforest to learn more about the biodiversity of this valuable resource and completed their biodiversity surveys and tree measurements. After lunch it was a long trip to the middle course for more river surveys and invertebrate studies… the river was still very deep from the recent floods, so we had to be careful! The students worked hard to collect the required data from this site! In the evening we went on safari, we saw elephants, deer, porcupines, asiatic wild dogs. At night the camp was visited by porcupines, a palm civet and deer.
Day 3
This was spent studying two examples of the impact of tourism, on the environment at the natural spring, another opportunity to play in the water… and then the change in services available as you approach the National Park from the main road.
This was a fantastic trip and enjoyed by everyone. This year's M4 were extremely hard working and never stopped working! Not only did the students have a great time, working in groups, they learned a great deal about the natural environment in Thailand.
For more photos of this excellent trip please visit or Facebook page.